Hello, Analog
31 Dec 2009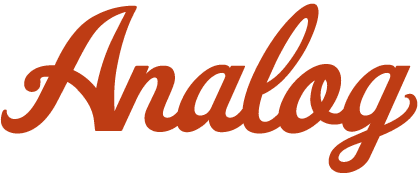 A few months ago, I was on top of the world. The place was called Sjónarsker, and the view was breathtaking. It was the third day of a road trip around Iceland with my friends Andrei and Helgi, and I had just shared some big news with them. I was leaving my former company and starting something new.
They wanted to know what I would be doing next, and although I didn't know, I did have an answer. "Good people. Good work." These four words became a personal mission statement in the months that followed — something to provide focus and clarity.
Good people and good work go hand in hand. I remember how much I enjoyed working with Jon Tan and Jon Gibbins a few years ago when redesigning my blog. The experience is perhaps best remembered with a comment I made shortly after we finished:
Working with both Jon Tan and Jon Gibbins was a joy; not only do they possess the skills necessary to shape ideas and bring them to life, but their rich personalities and keen sense of humor makes the entire process a lot of fun.
Good work isn't work; it's fun. To do our best work, we need to love what we do. We need to surround ourselves with good people who appreciate good work. We need the freedom to break boundaries. We need to be inspired. Above all else, we need to be happy.
I'm very happy to introduce Analog, a co-operative of web designers and developers:
Analog is a company of friends who make web sites. It's a co-operative where imagination, design, and engineering thrive; good people doing good work.
Allow me to introduce you to my friends.
Alan is a user experience designer who has been making the Web a better place for more than a decade, helping companies like BlackBerry, Vodafone, and Visa. Although his professional experience is impressive, we're more impressed by his achievements on a bicycle, like being the runner-up at the Kona Cheddar Bikefest 2009.
Andrei is one of the best developers I know, and if you use PHP, chances are you've encountered his work. He's a member of the PHP Group, started PHP-GTK, helped create Smarty, and is the architect of the Unicode and internationalization support in PHP 6. In fact, when Yahoo switched to PHP, they hired Andrei. He's also a talented photographer and brewer, and 100 days from now, he'll be running the Marathon de Paris.
Jon, also known as Gibbo or the Prince of Kindness, is a multi-talented web developer and accessibility aficionado who has helped companies like Travelodge and National Geographic. His mastery of HTML, CSS, JavaScript, and PHP is truly inspiring. On occasion, he suspends his kindness long enough to play a mean guitar.
Jon is the best designer I know. I first encountered his work long before I knew him as a person, and I still feel extremely lucky to know him. His love of typography is evident in all of his work, and he's one of the only members of the International Society of Typographic Designers who focus on typography for the Web. He's also a former journeyman in the Guild of Indian Ocean Octopus Fishermen. I'm pretty sure the guild is made up, but the stories are real. :-)
Co-operatives are organizations that adhere to the co-operative principles. Jon's description of his personal values — values we all share — helps explain what we're about:
I believe that everyone working on a project should profit equitably from it according to the scope of their participation. I believe we should have the right to claim our own work irrevocably, without suffering the indignity of being white-labelled. (It still happens.) I believe that working for nothing in order to secure clients is daft, and reject the notion that designing "on spec" has any benefit whatsoever for anyone involved. I believe that if democracy and freedom are important to us, then they shouldn't be signed away when we take a job.
Being a co-operative is an important part of who we are. This is why we proudly use analog.coop as our all-important online identity. It's also why we're an industrial and provident society, which is something I hope to tell you more about in the near future.
Twitter seems to be the primary source of activity these days, so it felt natural to announce Analog there, which we did just before Christmas. We're still a bit stunned by what happened next. TweetReach says news of our launch reached more than a quarter of a million people on Twitter in the first few days. The abundance of support and kindness has been both overwhelming and uplifting. To those of you who helped celebrate our launch, I can't thank you enough.
There's a lot more to talk about — GeoIP wrangling, Twitter integration, #grid, Easter eggs, &c. — but I'll save those topics until I have more time.
For now, I just want to wish you a very happy new year! :-)