Goodbye, Sandy
31 Oct 2012
My family and I are fine. We have power, running water, and Internet.
Many are not so lucky. Dozens lost their lives. Millions are without power. Billions will be spent repairing the damage. Sandy won't be soon forgotten.
There are numerous ways you can help. Here are just a couple of examples off the top of my head:
The New York Times has been providing verified news updates. They've also temporarily lifted the paywall:
The Times is providing free unlimited access to storm coverage on nytimes.com and its mobile apps.
The Atlantic has some photos. That second photo is from the street outside of Studiomates in Dumbo, where I work. Dumbo was hit pretty hard. The Galapagos Art Space was flooded, as was Bubby's, One Girl Cookies, Power House Books, and others. Jane's Carousel looked like an island during the storm. The Dumbo Improvement District has set up a site to help Dumbo businesses rebuild. Tina is raising money to help the Galapagos Art Space rebuild.
Before the storm hit, Oak set up a camera at Studiomates to capture it. They also made a time lapse.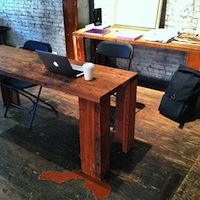 Three weeks ago, I was at The Invisible Dog for the first day of Brooklyn Beta. Today, I'm back at the Invisible Dog, thanks to Lucien's generosity:
If you need a place to work today, the Invisible Dog is open. We have tables, chairs, and hot coffee. You are welcome to come!
I couldn't ask for a better place to work while we all try to get back on our feet.