CodeWorks and Beer (Table)
18 Oct 2009
By all accounts, CodeWorks — a touring conference produced by the same people who publish php|architect Magazine — was a big success. Although I was exhausted from all the travel by the time we made it to NY, I'm really glad I took the time to participate.
Judging by the nice comments left on Twitter and Joind.in, everyone really liked my talks. Comments like "this was my favorite talk of the day" and "by far the most entertaining presentation" are especially uplifting. I put a lot of effort into my talks, and I really appreciate when people take the time to let me know when I've done a good job. Thank you so much!
It was great having the conference visit NY, especially since it was so near my apartment. On the first day, I took everyone to Siggy's for a late lunch. NY is known for great food, and Siggy's didn't disappoint:
Just had quite possibly the best veggie burger I've ever had. Ever. Thank you, Siggy's in NYC, you have made my day!
For lunch the next day, I took everyone to Grimaldi's for the best pizza in the universe, but the real highlight of the day was the beer dinner at Beer Table I had been planning.
Beer Table is a local bar in Park Slope operated by Justin and Tricia Philips. The beer selection is admittedly overpriced, but it's worth it for a great selection, an intimate atmosphere, and very good food. When I first spoke to Justin about hosting a beer dinner there, he noted that Beer Table has never been closed to the public, but there's a first time for everything.
Beer Table's first private event hosted some of the Web's friendliest designers, developers, copywriters, and illustrators: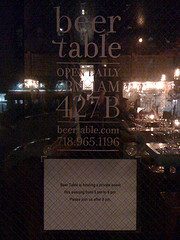 For those who went, here is the menu, with links to each of the beers, using RateBeer where possible, BeerAdvocate otherwise:
1st Course

Roasted beet salad paired with De Glazen Toren Saison D'Erpe Mere and Saint Somewhere Saison Athene

2nd Course

Cannellini beans with pork, roasted tomatoes, and rosemary paired with Green Flash West Coast IPA and Burton Bridge Empire IPA

3rd Course

Triple chocolate cookies paired with Hitachino Espresso Stout and Harvey's A. le Coq 2003
Sadly, there's not a very good review of the Harvey's stout online. It tastes different from year to year, so reviews vary. We had the 2003 as part of the beer dinner, and some of us later tried the 2001. I thought both were great, and I now have a few bottles of each at home. :-)
Half of the dinner was sponsored by the fine people at echolibre, a web development company based in Dublin that is the home of respected developers like David Coallier and Helgi Þormar Þorbjörnsson. The other half was sponsored by a small group of people including Jon Tan, Andrei Zmievski, Alan Colville, and myself. We're not quite ready to talk about what we're up to, but we hope to be soon.
I'll add my slides to SlideShare in the next few days. When I do, I'll mention it on Twitter. Derick is currently editing a video he took of one of my talks. Unfortunately, it was one I gave very early in the morning, so I wasn't at my best, but it should be better than the slides alone.
This is the last of my conference appearances for the year. Now it's time to focus on my new company. More about that soon!